Buying a new mattress is a big investment, so you want to make sure you get the best deal possible. But when is the best time to buy a mattress?
As it turns out, there are actually a few different times of year when you can score some great deals on mattresses. In this article, we'll take a look at some of the best times to buy a mattress, as well as some other tips for getting the best deal possible.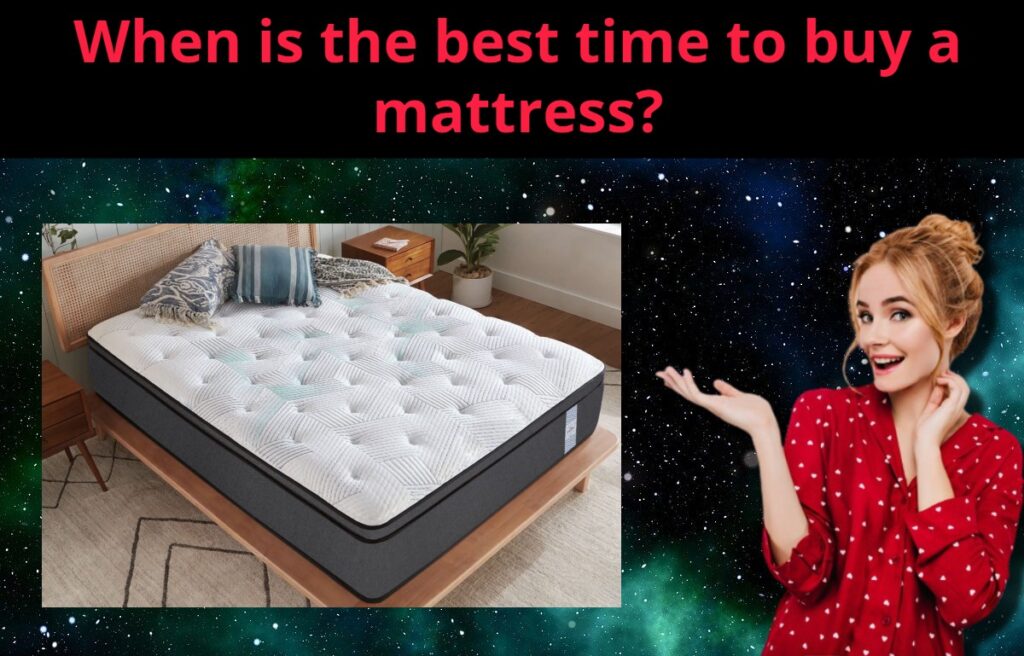 A. Why Choosing the Right Time is Crucial
The timing of your mattress purchase can greatly impact your overall satisfaction and savings.
By understanding the best times to buy, you can make an informed decision and get the most value for your money.
B. How Timing Affects Price, Quality, and Options
The mattress industry experiences seasonal fluctuations in pricing, allowing you to take advantage of discounts and promotions.
Different times of the year offer varying options and availability of mattress types, ensuring you find the perfect fit for your needs.
Understanding Mattress Shopping
A. Importance of a High-Quality Mattress
A good mattress plays a crucial role in ensuring restful sleep, which is essential for overall health and well-being.
Investing in a high-quality mattress can alleviate back pain, improve sleep quality, and enhance your overall comfort.
B. Factors to Consider Before Buying
Comfort Level and Sleeping Positions
Consider your preferred sleeping position and choose a mattress that provides adequate support and alignment for your spine.
The comfort level, whether plush, medium, or firm, should align with your personal preferences and needs.
Mattress Types and Materials
Understanding the different mattress types, such as memory foam, innerspring, latex, or hybrid, can help you make an informed decision.
Each mattress type offers unique benefits and varying levels of support, pressure relief, and motion isolation.
Budget Constraints
Assess your budget and find a balance between quality and affordability.
Consider the long-term investment of a mattress and prioritize features that align with your sleep needs within your budget.
Different Times of the Year
A. Timing Based on Seasonal Sales
Spring Sales
Spring often brings mattress sales as retailers introduce new models.
Look for discounts and promotions during this time, as retailers try to clear out older inventory.
Summer Discounts
Summer can be a great time to buy a mattress, as retailers may offer discounts to attract customers during slower sales periods.
Look for Fourth of July sales or anniversary promotions.
Fall Promotions
Fall brings seasonal promotions and discounts as retailers gear up for the holiday shopping season.
Keep an eye out for Labor Day and Columbus Day sales events.
Winter Deals
Winter months, particularly around the holidays, often offer substantial discounts and deals.
Take advantage of year-end clearance sales to find great prices on mattresses.
B. Major Shopping Holidays and Sales Events
Black Friday
Black Friday is notorious for its markdowns and deals across various industries, including mattresses.
Retailers often offer significant discounts and bundle offers during this time.
Cyber Monday
Cyber Monday is an ideal time for online mattress shopping, with retailers providing exclusive online deals and discounts.
Take advantage of the convenience and browse for competitive prices.
Labor Day
Labor Day weekend serves as an opportunity for retailers to offer mattress promotions and discounts.
Many retailers release special offers and bundle deals during this time.
Memorial Day
Memorial Day sales events often feature mattress promotions and discounts.
Retailers compete to attract customers with enticing deals, making it an excellent time to explore options.
New Year, New Mattress
A. Benefits of Buying in January
With the arrival of the new year, retailers tend to release new inventory, making January a prime time to shop.
Take advantage of the post-holiday sales and clearance events to find significant savings on mattresses.
B. Post-Holiday Promotions and Clearance Sales
Retailers offer post-holiday promotions to clear out remaining inventory.
Look for clearance sales to secure substantial savings on high-quality mattresses.
C. Taking Advantage of Year-End Closeouts
As the year concludes, retailers often offer closeout sales on older models.
These closeouts can provide an opportunity to find excellent deals on mattresses.
Insider Tips for Smart Mattress Shoppers
A. Researching and Comparing Brands
Conduct thorough research to understand different brands, their reputations, and customer reviews.
Comparison shop to ensure you are getting the best value for your money.
B. Utilizing Online Reviews and Customer Feedback
Online reviews and customer feedback can offer valuable insights into the comfort, durability, and overall satisfaction of a mattress.
Take advantage of these resources to gather information and make an informed decision.
C. Store Price Matching and Negotiation Techniques
Some retailers offer price matching, allowing you to secure the best deal available.
Negotiation techniques can also be employed to potentially lower the price further.
D. Understanding Warranties and Return Policies
Familiarize yourself with the warranty details and return policies of different mattress brands.
Ensure you have a clear understanding of what is covered and any associated costs.
Replacing Your Old Mattress
A. Signs It's Time for a New Mattress
Pay attention to signs of wear and tear, sagging, discomfort, or noticeable changes in sleep quality.
An old mattress may no longer provide adequate support, negatively impacting your sleep and overall well-being.
B. Planning Ahead for Mattress Replacement
Extending the Lifespan of Your Current Mattress
Proper care and maintenance can extend the lifespan of your mattress.
Regularly flipping or rotating your mattress can help distribute weight evenly and prevent premature wear.
Determining the Perfect Replacement Timeframe
Consider factors such as the average lifespan of your current mattress and personal sleep needs.
Plan ahead to ensure a smooth transition to a new mattress when the time is right.
Identifying Personalized Deals and Offers
A. Taking Advantage of Loyalty Programs
Many retailers offer loyalty programs that reward frequent customers with exclusive discounts and offers.
Sign up for these programs to access personalized deals and savings.
B. Subscribing to Newsletters and Notifications
Stay informed about promotions and exclusive offers by subscribing to newsletters and notifications from mattress retailers.
This allows you to be among the first to know about special deals and discounts.
C. Local Retailer Exclusive Deals
Local mattress retailers may offer exclusive deals that are not available online or from larger chains.
Explore local options to find unique promotions and discounts.
Industry Trends and Clearance Sales
A. Introduction to Mattress Trends and Innovation
Stay informed about mattress industry trends and technological advancements to make an educated purchasing decision.
Understanding the latest innovations can help you find a mattress that meets your specific needs.
B. Tracking Clearance Sales Among Top Brands
Options within the Budget
Clearance sales often provide a wide range of options at discounted prices.
Explore different brands within your budget to find the best fit.
Upgrading Opportunities to High-End Mattresses
Clearance sales can also provide opportunities to upgrade to high-end mattresses at lower prices.
Keep an eye out for luxury brand clearance sales for exceptional deals.
Considering Specific Situations
A. Mattress for Back Pain Relief
Look for mattresses specifically designed to alleviate back pain, such as those with targeted support or pressure-relief features.
Memory foam or hybrid mattresses may be optimal choices for individuals with back pain.
B. Mattresses for Allergy Sufferers
Consider hypoallergenic mattresses that are dust mite resistant and have breathable materials.
Latex or organic mattresses may be suitable for individuals with allergies.
C. Mattresses for Couples with Different Needs
Opt for customizable or split mattresses that allow each partner to choose their preferred comfort level.
Discuss individual sleep preferences and prioritize a mattress that meets both partners' needs.
Benefits of Online Mattress Shopping
A. Convenience and 100-Night Trials
Online mattress shopping offers the convenience of browsing from the comfort of your home.
Take advantage of 100-night or longer trial periods to ensure the mattress is the right fit for you.
B. Deeper Discounts and Lower Overhead Costs
Online mattress retailers often have lower overhead costs, allowing them to offer more competitive prices.
Take advantage of these savings and discounts when shopping online.
C. Comparing Offers and Brands Effortlessly
Online shopping allows for easy comparison of mattress options, prices, and customer reviews.
Effortlessly compare offers and find the best mattress that meets your needs and budget.
How to Test a Mattress Before Buying
A. In-Store Testing Etiquette
When testing a mattress in-store, be respectful of the environment and follow any guidelines or restrictions provided by the retailer.
Take your time to lie down and assess comfort and support levels.
B. Online Shopping and Virtual Try-On Options
Some online mattress retailers offer virtual try-on options, allowing you to assess the feel and support of the mattress remotely.
Take advantage of these features to make an informed decision when shopping online.
C. Importance of Sleep Trial Periods and Return Policies
Opt for mattresses with generous sleep trial periods and flexible return policies.
This allows you to thoroughly test the mattress in the comfort of your own home before committing to the purchase.
Financing Options and Savings
A. Financing Offers and Installment Plans
Some mattress retailers offer financing options and installment plans to make purchasing more affordable.
Explore these options if you prefer to spread out payments.
B. Budget-Friendly Alternatives
Mattress Toppers
Mattress toppers can provide an economical solution by enhancing the comfort and support of your current mattress.
Consider adding a topper to extend the lifespan of your existing mattress.
Refurbished and Open-Box Deals
Refurbished or open-box deals offer an opportunity to save money on mattresses that have been previously used or returned.
These options can provide significant savings without compromising on quality.
Summary
A. Key Considerations When Buying a Mattress
Consider factors such as comfort level, sleeping positions, mattress types, and budget constraints when making a purchasing decision.
Prioritize your individual sleep needs and preferences to ensure optimal comfort and support.
B. Insights on Timing and Saving Strategies
Understanding the best times to purchase a mattress can help you secure the best deals and discounts.
Implementing smart saving strategies, such as researching brands, comparing offers, and taking advantage of promotions, can maximize your savings.
FAQs (Frequently Asked Questions)
A. What is the average lifespan of a mattress?
The average lifespan of a mattress is typically around 7 to 10 years, depending on the quality and usage.
Factors such as the type of mattress, care, and maintenance can affect its longevity.
B. Are there any specific mattress types recommended for side sleepers?
Memory foam or hybrid mattresses with adequate pressure relief are often recommended for side sleepers.
Look for mattresses with good contouring abilities to ensure proper spinal alignment.
C. Can I find good deals on mattresses throughout the year, or do sales only happen during specific times?
While specific times of the year may offer more promotions and discounts, good deals on mattresses can be found throughout the year.
Keep an eye on promotions, clearance sales, and subscribe to newsletters for continuous savings opportunities.
D. Is it risk-free to buy a mattress online without physically trying it?
Many online mattress retailers offer generous sleep trial periods and hassle-free return policies.
This allows you to try the mattress in your own home without the risk of being stuck with an uncomfortable mattress.
E. Should I prioritize brand or features when buying a mattress?
It's essential to strike a balance between brand reputation and the features that align with your personal sleep needs.
Consider researching brands known for quality and customer satisfaction, while also evaluating the specific features that meet your requirements.